Other Information
| | |
| --- | --- |
| Willing to work on off-days with compensation? | |
| Number of off-days per month: | 4 (day/month) |
| Able to handle pork? | |
| Able to eat pork? | |
| Able to care dog/cat? | |
| Able to do simple sewing? | |
| Able to do gardening work? | |
| Willing to wash car? | |
Employment Record
| From | To | Country | Employer | Main Duties | Remark |
| --- | --- | --- | --- | --- | --- |
| 2010 | 2012 | Singapore | Chinese family | Look after children, General household, cooking, car washing | |
| 2014 | 2015 | Singapore | Chinese family | Take care a children, general housework and cooking, car washing | |
| 2015 | 2016 | Singapore | Filipino family | child care (4 yrs old) and did all the household chores | The family left Singapore for good. |
| 2016 | 2017 | Singapore | Chinese family | Childcare ( twins age 9 years old) & General Household | The Employer re-hired their old maid. |
Maid Skills
| Areas of Work | Willingness | Experience | Evaluation |
| --- | --- | --- | --- |
| Care of infants/children | | | |
| Care of elderly | | | |
| Care of disabled | | | |
| General housework | | | |
| Cooking | | | |
Maid Introduction
is 32, Married with 1 child 7 years old boy. She's been working here in Singapore for 5 years.

She is currently working in Chinese family, living in HDB flat for one year plus. She take care of twins age 9 years old. She bring/fetch the children from school/accompany in tuition class/play ground. She also did all the household chores.

She has experiences in look after infant/young children starting 7 months old - 7 years old child, She does household chores, cooking, marketing and car washing.

With 5 years her working experiences in Singapore and Served Chinese & Western Family, She founds that she has a lot of benefits. Now she knows how to cook western and Chinese food. She can managed her work scheduled.

is a mature, responsible and have a good attitude.
She is willing to learn new things and follow the instruction that employer given to her.

She is available for interview anytime.
(License No.: 12C6270)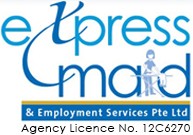 Address:
545 ORCHARD ROAD,
#04-11B FAR EAST SHOPPING CENTRE, Singapore 238882
Tel:
67345997
Fax:
6734 6040
Email:
sgmaids88@gmail.com
sgmaids01@gmail.com

Contact Person:
Jupiter / Ellen
Handphone:
98340996 / 84887000
Website:
www.bestmaid.com.sg
Office Hour:
Opening Hour: Monday to Friday 10:00am to 6:00pm
Sunday: 10:00am to 4pm
Saturday and Public Holiday : Closed
---
Express Maid we are efficient, honest, and trustworthy. We take pride in what we do and it has been shown in the immense satisfaction of our previous clients. We believe that maintaining well & long relationships with our clients is essential. An exceptional reason to engage us as your service provider is that within 12 months if you are dissatisfied with your current helper for any reason, we will provide a maximum of 2 free replacements. Since 2011, we have been providing professional& quality services to meet the needs of many families. The following listed are the services we currently provide.
• Direct hiring from Philippines & Indonesia
• New & transfer maids application
• Full documentation of applications
• Renewal& cancellation of work permit
• Repatriation of maids
• Best prices of airfares
• Passport renewal
• Home leave processing
• Door-to-door home service
• Maid counselling
• Complimentary professional advice
• Affordable range of packages

Last updated on 14-09-2017.
Total hits: 405.