Other Information
| | |
| --- | --- |
| Willing to work on off-days with compensation? | |
| Number of off-days per month: | 0 (day/month) |
| Able to handle pork? | |
| Able to eat pork? | |
| Able to care dog/cat? | |
| Able to do simple sewing? | |
| Able to do gardening work? | |
| Willing to wash car? | |
Maid Introduction
Kavita Rani is single and she is Sikh Religion
this is her first time to come Singapore and she understand that she is coming as a domestic helper and work 2 years

She is a polite and diligent new maid. she also did house work and cooking. She took care of Children .

She can take care of children and elderly. She can do housework, clean, wash, laundry, iron, cook and gardening.

She can cook Indian food and . she did all the housework and cleaning. She would like to work in Singapore to support her famil

Her basic salary is $400 + 32 & 2 off days

Contact Ricky 9773-7409 Eva 82869211
Leah /Office ( 67330673 / 67330667)

Serving you in the best way and with a true heart ww.target.com.sg (We are at Rinzin Agency Pte Ltd)
#04-40 Far East Shopping Centre
(Next to Hilton Hotel & Liat Tower & Opposite the Thai Embassy)

Non disclaimer:
We have to the best of our ability verify that the above information given are true nevertheless we cannot guaranteed it a
(License No.: 13C6660)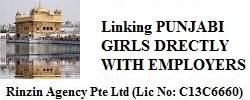 ---
The pride of Punjabi maids:
I have been to Punjab a few times and each time I roam India I never give Punjab a missed. I tried to help the poorer girls to come Singapore and trying to cut the crooked middle man who takes a lots of money from them
I have been doing North Indian maid for the past 10 years and the response when we promote Punjabi maids who are super in many ways and but has a strong personality which shunt away many employers.
Many has good experiences with Punjabi maids only many do not want to take a risk bcos inviting a stranger into our house is a BIG step.
Many Punjabi also pays alots of money in India. Despite we asking them numerous time whether they had paid any money in India and despite us pre-advising agent not to overcharge them. Many come with even 1-2 lahk INR payment. Mortgaging land and house and selling their dowries.
Many were given the pre-conception that after coming to Singapore and getting a stamp on their passport gives them a better chance to go Canada. After they return they were told Singapore has taken the money and they are are in a dilemma
/. She are not
able to recover the money they paid and no means of coming to Singapore to find the agency.
We want to help the Punjabi girls to secure a better jobs and build a better future for their families.
This site is to link them directly to employers who may consider them if they do not have to pay agency fee and recruit them directly.
There may be agent involved in India which we choose careful bcos many girls are from remote villages and do not have internet and need agent to link them.
At Rinzin Agency we provide the link to potential employers and if need we will assist employers to do the application
We provide 3 service options:
1. Direct hired by employers. just one time unlimited access cost as referral fee of $450 fee and their placement fee of $700, and we provides all document and related contract between FDW and employers required by MOM. Insurance and Bond separately

2. Assist employers apply to MOM with their own SINGPASS in office and all related document and contract between FDW and employers required by MOM. Agency fee and other direct cost applies. Insurance and Bond separately
3. Full agency services with replacement for girls from this website ONLY - Employers MUST meet us in our office. Agency fee and other direct cost applies. Insurance and Bond separately
email: punjabimaids123@gmail,com
Ricky Ho - R1106320
Rinzin Agency Pte Ltd - :MOM Licence No 13C6660
email: punjabimaids123@gmail.com


Last updated on 21-02-2018.
Total hits: 591.