Other Information
| | |
| --- | --- |
| Willing to work on off-days with compensation? | |
| Number of off-days per month: | 1 (day/month) |
| Able to handle pork? | |
| Able to eat pork? | |
| Able to care dog/cat? | |
| Able to do simple sewing? | |
| Able to do gardening work? | |
| Willing to wash car? | |
Employment Record
| From | To | Country | Employer | Main Duties | Remark |
| --- | --- | --- | --- | --- | --- |
| 2016 | 2016 | Singapore | Chinese | Take care of baby, housechores and cooking. | Er moves to Msia. Helper does not want to follow Er to Msia. |
| 2017 | 2017 | Singapore | Chinese | Take care of baby, housechores and cooking | |
Maid Skills
| Areas of Work | Willingness | Experience | Evaluation |
| --- | --- | --- | --- |
| Care of infants/children | | 7 Year(s) | |
| Care of elderly | | | |
| Care of disabled | | | |
| General housework | | | |
| Cooking | | | |
Maid Introduction
has 1 year experience working in Singapore.

1st employer: 10 months. Taking care of baby, housechores and cooking.
Employer moves back aysia and wants to follow but worries is unsafe so return to Myanmar.

2nd employer: 1.5 months. Taking care of baby, housechores and assist in cooking. Helper needs to work in 2 houses.

can speak English and simple Mandarin. She is willing to work with $550 with 1 off day, est $2,500 loan.
(License No.: 12C6242)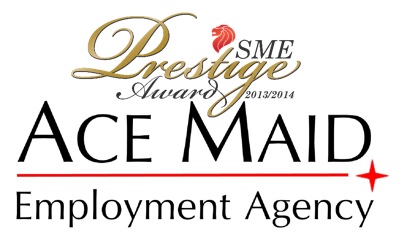 Address:
50,
Jalan Limbok, Singapore 548730
Tel:
9855 2585
Email:
caitlyn.acemaid@gmail.com

Contact Person:
Caitlyn
Handphone:
9855 2585
Website:
www.bestmaid.com.sg
Office Hour:
2:00pm to 10:00pm (Mon to Fri)
12:00pm to 10:00pm (Sat to Sun)

Please call to make appointments before dropping by office.
---

We have received the SME Prestige Award 2013/2014 and the Top 100 Companies Exellence Award 2014.

We provide the following services to be able to serve you better:

- Job placement services for foreign domestic workers
- Placement of transfer FDWs
- Training courses & Workshops for;
> Caring of Babies
> Caring of Elderly or Disabled
> Cooking
> Spoken English
- General Orientation for Employment as a Maid in Singapore
- Home Leave Processing
- Application of work permits
- Renewal of passports and work permits
- Embassy endorsement and Visa application
- Cancellation of work permits
- Booking and Purchasing of air tickets
- Purchasing of banker's guarantee and insurance for FDWs
- Repatriation of FDWs
- Arrangement of medical check up for FDWs
- Other foreign worker related services



Last updated on 14-05-2017.
Total hits: 1177.