Other Information
| | |
| --- | --- |
| Willing to work on off-days with compensation? | |
| Number of off-days per month: | 1 (day/month) |
| Able to handle pork? | |
| Able to eat pork? | |
| Able to care dog/cat? | |
| Able to do simple sewing? | |
| Able to do gardening work? | |
| Willing to wash car? | |
Employment Record
| From | To | Country | Employer | Main Duties | Remark |
| --- | --- | --- | --- | --- | --- |
| 2015 | 2015 | Singapore | India Employer | Take care of baby (15 months), 7 years old boy. Do household chores like cleaning, washing, ironing | Work for 1 month Reason: English no good, Communication problem. |
| 2015 | 2015 | Singapore | | In Agency, Transfer to Agent Name | |
| 2015 | 2017 | Singapore | Chinese | Take care bed-ridden Ah ma, Push her to dialysis, Change her, bathe her. Do household Chores. | Worked 1 year 8 months. Reason: Employer's new maid arrived and she wants to transfer. |
Maid Skills
| Areas of Work | Willingness | Experience | Evaluation | Comments |
| --- | --- | --- | --- | --- |
| Care of infants/children | | | | Take care of cousins in Myanmar |
| Care of elderly | | 1 yr 8mont | | Take care of dialysis Ahma for 1 year 8 months (In S'pore) |
| Care of disabled | | 1 year 8 m | | Push the bed-riddened ahma to dialysis and daily care (S'pore) |
| General housework | | 1 year 8 m | | cleaning, washing and ironing |
| Cooking | | | | Can cook a bit Chinese and Myanmar food. |
| Language Skill: Burmese, (a bit Chinese), fair | | | | |
Maid Introduction
is a fast and diligent helper. She can pick up job assigned to her easily. She is able to work independently and lightened employer's load by pushing Ah Ma to dialysis 3 times a week. She bathed and washed Ah Ma daily and took care of Ah Ma's daily routine as Ah Gong is 80 years old. Ah Gong likes her but she wants to go back to Myanmar. She then changes her mind and decided to work for another 2 years to support her family.

She is learning Mandarin now and is picking up fast. She can take care of elderly (mobile or bed-ridden), toddler, bigger children or housework.
(License No.: 16C8002)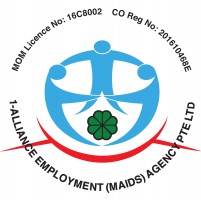 ---
Established in 2016, 1-Alliance was set up with the aim to enforce a close relationship between the Employer, FDW and the Agency. Understanding a mismatch will create stress and anxiety to all three parties, we always try our best in matching.
We provide sincere, reliable and personal services to address all the needs and are ready to render assistance and advice when needed.
The services provided by us:
1. Placement of New FDW, Ex-Singapore FDW and Transfer FDW
2. Work Permit application and cancellation.
3. Renewal of Work Permit
4. FDW Repatriation Services
5. Home Leave Processing
6. Lodging for maids
7. Direct Hire Documentations
8. Passport renewal
9. Home Services and Excellent after sales services

Last updated on 04-07-2017.
Total hits: 825.