Other Information
| | |
| --- | --- |
| Willing to work on off-days with compensation? | |
| Number of off-days per month: | 4 (day/month) |
| Able to handle pork? | |
| Able to eat pork? | |
| Able to care dog/cat? | |
| Able to do simple sewing? | |
| Able to do gardening work? | |
| Willing to wash car? | |
Employment Record
| From | To | Country | Employer | Main Duties | Remark |
| --- | --- | --- | --- | --- | --- |
| 2016 | 2017 | Singapore | MALAY | Take care for the baby ( newborn ), she is able to make mild, feed, change diaper, shower. She also sleep with the baby, taking care of the night feed as well. After she let baby nap she will have to do housekeeping and she will cook for the family | For more detail bio data call us to enquire |
| 2002 | 2006 | Malaysia | MALAY | Take care for the elderly (Grandma) aged 65 yrs old. She is to watch over Grandma's safety & well-being. Grandma is healthy and she will go everywhere Grandma goes, marketing, shopping . She will cooking together with Grandma, she would clean the house. | For more detail bio data call us to enquire |
Maid Skills
| Areas of Work | Willingness | Experience | Evaluation | Comments |
| --- | --- | --- | --- | --- |
| Care of infants/children | | 1 yrs | | She is able to care for newborn independently. Shower, change diaper, feed, coax to slp etc. She knows how to cook soft food for young children |
| Care of elderly | | 4 yrs | | She took care of a healthy Grandma back in Malaysia. She handles the housekeeping and ensures Grandma's safety and well-being |
| Care of disabled | | | | |
| General housework | | 5 yrs | | She washes and irons clothes, vacuums and mops the floor, washes the toilets, changes bed sheets, cleans the surface tops and organizes cabinets. |
| Cooking | | 5 yrs | | She cooks on regular basis for the past 2 employments. She cooks mainly Malay and Indonesian food. She is willing to learn how to cook other food |
| Language Skill: Malay, Bahasa, English | | | | Helper speaks mainly Malay/Bahasa. She is able to understand English when spoken clearly and simply but not able to express herself well. |
Maid Introduction
Apriliana is suitable for a family who speaks Malay as her English is weak. She would like to use her off days to take up courses to improve her English. She has experience caring for elderly and children. She can manage newborn independently as long as clear instructions are given.

She would like to work and save money for her children's educations and provide them with a brighter future.
(License No.: 16C8468)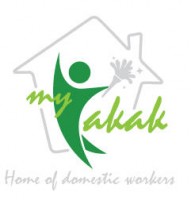 Address:
19 Tanglin Shopping Centre,
#02-34, Singapore 247909
Tel:
(65) 6908 1185
Email:
info@myKakak.sg

Contact Person:
Foong Weiyi | Joey Yap | Xavier Teo
Handphone:
86860255 (Weiyi) | 98213024 (Joey) | 97260817 (Xavier)
Website:
myKakak.sg
Office Hour:
Monday to Saturday: 10AM to 7PM
---
My Kakak Employment Agency
is a reliable maid agency that seeks first to fully understand the needs of employers, then to assess and match the capabilities of domestic helpers to them. We provide domestic helpers with pre-employment training, comprehensive orientation, and ongoing training during their two-years contract.
We believe that effective placement of domestic helpers to employers needs to go beyond a transactional relationship. We facilitate a more meaningful, trusting and fair relationship between employers and domestic helpers which will go a longer way.


For more info, visit us @ mykakak.sg
Stay connected to us!
Like our Facebook Page - https://www.facebook.com/mykakak.sg/

Last updated on 13-12-2017.
Total hits: 316.