Other Information
| | |
| --- | --- |
| Willing to work on off-days with compensation? | |
| Number of off-days per month: | 4 (day/month) |
| Able to handle pork? | |
| Able to eat pork? | |
| Able to care dog/cat? | |
| Able to do simple sewing? | |
| Able to do gardening work? | |
| Willing to wash car? | |
Maid Skills
| Areas of Work | Willingness | Experience | Evaluation | Comments |
| --- | --- | --- | --- | --- |
| Care of infants/children | | | | Can follow instructions to sterilize baby products and render assistance (such as washing baby's clothes, clean and keep the baby's stroller, etc) whenever needed, under supervision. *Pending further assessment after training. |
| Care of elderly | | | | Acquire basic knowledge to care for an elderly in her Nursing Aide Cert. |
| Care of disabled | | | | Know how to change diaper. Monitor elderly wellbeing. Take blood pressure. Will need another person to assist transferring elderly from wheelchair because of her petite size. |
| General housework | | | | She can follow instructions and housekeeping routine under supervision. Doing laundry and ironing, fan cleaning (wall/ceiling/mobile), operating of vacuum cleaner and washing machine, changing curtain, hanging clothes. |
| Cooking | | | | She can prepare ingredients under instruction. *Pending further assessment after training. |
| Language Skill: Simple English | | | | Can understand simple English and response in simple English. Learned Chinese before, and need more practices. |
| Other Skill: Dog | | | | Was scare of dog at first, and later she managed to overcome her fear. She ensures food and water is given as per routine. |
Maid Introduction
May Myat Noe Thu worked in hospital (eye specialist department) as nursing aid for 3 months as part of her nursing
aids certification programme. She is soft spoken, polite, and displays a determination to adjust herself a role as a
helper. She is self motivated; work and save money to enrol further in English and Chinese classes in perusal with a
hope to come to Singapore one day – find a work as a domestic helper to support her family.
During the training, May demonstrated a will and she pushes herself to do well in acquiring the skill of good
housekeeping which is an area where she does not do before (her mother was the one doing household work at
home). She will ask questions when in doubts to learn. Helper can speak and understand simple English, and little
Chinese. Despite not able to express well in English, we will make effort to check/ask/demonstrate to confirm the
instructions told.
May is suitable for employer looking for entry helper to help them with basic housekeeping following a routine
schedule and assist employer under simple instructions. She can continue to pick up and improve her domestic skills –
cooking and infant/toddler care.
**This assessment is incomplete. A more complete assessment will be out by 9 Feb.
(License No.: 16C8468)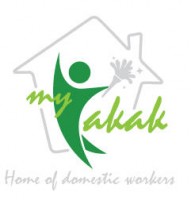 Address:
19 Tanglin Shopping Centre,
#02-34, Singapore 247909
Tel:
(65) 6908 1185
Email:
info@myKakak.sg

Contact Person:
Foong Weiyi | Joey Yap | Xavier Teo
Handphone:
86860255 (Weiyi) | 98213024 (Joey) | 97260817 (Xavier)
Website:
myKakak.sg
Office Hour:
Monday to Saturday: 10AM to 7PM
---
My Kakak Employment Agency
is a reliable maid agency that seeks first to fully understand the needs of employers, then to assess and match the capabilities of domestic helpers to them. We provide domestic helpers with pre-employment training, comprehensive orientation, and ongoing training during their two-years contract.
We believe that effective placement of domestic helpers to employers needs to go beyond a transactional relationship. We facilitate a more meaningful, trusting and fair relationship between employers and domestic helpers which will go a longer way.


For more info, visit us @ mykakak.sg
Stay connected to us!
Like our Facebook Page - https://www.facebook.com/mykakak.sg/

Last updated on 21-02-2018.
Total hits: 40.