Other Information
| | |
| --- | --- |
| Willing to work on off-days with compensation? | |
| Number of off-days per month: | 4 (day/month) |
| Able to handle pork? | |
| Able to eat pork? | |
| Able to care dog/cat? | |
| Able to do simple sewing? | |
| Able to do gardening work? | |
| Willing to wash car? | |
Employment Record
| From | To | Country | Employer | Main Duties | Remark |
| --- | --- | --- | --- | --- | --- |
| 2012 | | Singapore | CHINESE | Take care for the children age 11 yrs old.Morning she will prepare breakfast for the family and prepare the child to school. She would do housekeeping,laundry,ironing,marketing.She will to prepare lunch and dinner for the family. | For more detail bio data call us to enquire |
| 2011 | 2012 | Singapore | CHINESE | Take care for the infant & 1 yrs 5mthn old toddler.Every morning she prepare breakfast for the family & prepare the infant to school.She also need to give the baby,shower,feed,make milk,sterilize the bottle.She will do housekeeping,laundry. | For more detail bio data call us to enquire |
Maid Skills
| Areas of Work | Willingness | Experience | Evaluation | Comments |
| --- | --- | --- | --- | --- |
| Care of infants/children | | ~ 7 years | | Childminding – prepare the kid to wake up and to school (i.e. fill up water bottle, pack bag, shoes and uniform), assist kid to shower, feed them, make them to sleep, play with them, supervise their safety and well-being. |
| Care of elderly | | ~ almost 6 | | Elderly still strong. Ensure elderly take her medicine daily. |
| Care of disabled | | | | |
| General housework | | ~ 7 years | | Follow employer's housekeeping schedule. When caring for infant, she will do housekeeping during pocket of time when infant is sleeping. |
| Cooking | | ~ 7 years | | Can cook fried egg, fried fish, fried vegetable with meat, make porridge, steam fish, steam meat, abc soup, chicken soup, old cucumber soup, radish pork soup, curry chicken, salted veg pork belly, bittergroud egg veg, etc. Elderly taught helper how to cook |
| Language Skill: English | | ~ 7 years | | Can speak and understand English. |
Maid Introduction
is a soft spoken, cheerful and dedicated helper. enjoys cooking and humbly expressed with a giggle that her employer likes her cooking. She will plan the meals for the family and goes groceries shopping independently. also said she enjoys caring for toddler because it can be quite boring to stay at home alone, with toddler around she felt the environment will be livelier. She also expressed that she does not mind having an elderly at home too to support elderly to look after the toddler.

is the sole bread winner for her family – 1 of her sister is married while another is a cancer survivor. Thus, she expressed that it is important she must continue to work so that she can support the medical expenses of her sister. Whenever she thinks of her dad and think that her family is highly dependence on her, she forgot all the hardships. She had a boyfriend in Myanmar who waited for her, but she told her boyfriend not to wait if he cannot accept she must support her family and had to work. now aimed to build her family a house before she can even think of marrying anyone.

is best suitable for family who look for dependable helper who a mature character, and would embrace her as part of their family, who need her to do general housekeeping, keep a watch on their elderly's safety well-being, do cooking, and/or care for toddler under guidance. Her current employer likes to support her in finding her next good family and willing to give reference.
(License No.: 16C8468)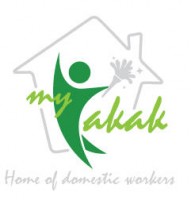 Address:
19 Tanglin Shopping Centre,
#02-34, Singapore 247909
Tel:
(65) 6908 1185
Email:
info@myKakak.sg

Contact Person:
Foong Weiyi | Joey Yap | Xavier Teo
Handphone:
86860255 (Weiyi) | 98213024 (Joey) | 97260817 (Xavier)
Website:
myKakak.sg
Office Hour:
Monday to Saturday: 10AM to 7PM
---
My Kakak Employment Agency
is a reliable maid agency that seeks first to fully understand the needs of employers, then to assess and match the capabilities of domestic helpers to them. We provide domestic helpers with pre-employment training, comprehensive orientation, and ongoing training during their two-years contract.
We believe that effective placement of domestic helpers to employers needs to go beyond a transactional relationship. We facilitate a more meaningful, trusting and fair relationship between employers and domestic helpers which will go a longer way.


For more info, visit us @ mykakak.sg
Stay connected to us!
Like our Facebook Page - https://www.facebook.com/mykakak.sg/

Last updated on 26-06-2018.
Total hits: 355.