Other Information
| | |
| --- | --- |
| Willing to work on off-days with compensation? | |
| Number of off-days per month: | 0 (day/month) |
| Able to handle pork? | |
| Able to eat pork? | |
| Able to care dog/cat? | |
| Able to do simple sewing? | |
| Able to do gardening work? | |
| Willing to wash car? | |
Employment Record
| From | To | Country | Employer | Main Duties | Remark |
| --- | --- | --- | --- | --- | --- |
| 2016 | 2017 | Singapore | Chinese | Housecleaning ,cooking,washing clothes,Ironing, taking care of 2 kids aged 4yr & 2yr old, all other chores | Australian went back |
| 2013 | 2015 | Hong Kong | Chinese | Housecleaning ,cooking ,wash clothes,Ironing, taking care of kid, all other chores | Finish contract |
Maid Introduction
Susan is 28yr old, Christian from Bandung, widowed with a kid aged 7yr old , she has completed her College studies and wants to work in Singapore for a better living . Susan can speak English, fair Cantonese and Malay.

In Hongkong she worked for 2 years doing all housecleaning chores, marketing,washing clothes,Ironing ,taking care of 1 kid ,and cooking. In Singapore she has also worked for Chinese employer where she did all household chores, cooking, washing and taking care of 2 kids aged 4yr & 2 yr old. She is able to cook Chinese food and can handle pork . Susan is willing to learn all other cuisines.

Susan is willing to accept no off days or just 1 off day a month .
(License No.: 12C6122)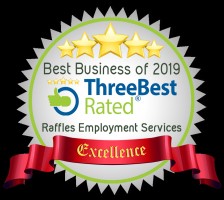 ---
About Us
There are many maid agencies in Singapore but Raffles Employment ensures that we choose the cream of the crop.We take pride in doing a personal interview with the helper who applies to our agency.On the occasion,if the helper is not able to reach our offices,the client would be advised to do a telephone interview.
When interviewing a candidate,we discuss at length their strengths and requirements and the sort of household that would suit them best.This to ensures that Raffles Employment provides you with a helper that suits your lifestyle and requirements so both you and our staff are comfortable and happy.

We believe that service standards must be transparent to all our valued customers.

Our Services

Placement of New, Transfer and Direct Hire Maids from India, Sri Lanka, Indonesia, Philippines and Myanmar
Application, Renewal, Collection and Cancellation of Work Permit and Passport
Full Documentation with MOM and Embassy
Processing of Home Leave
Recontract of Existing Maids
Purchase of Comprehensive Insurance, Bankerís Guarantee and $5,000 Bond Waiver
Purchase of Air Tickets
Medical Examination upon Arrival
Transportation and Lodging upon Arrival
Thumbprint Registration
Free Consultation and Counselling
Labournet Application Processing

Our Training

Induction at overseas training centres prior to departure for Singapore
Orientation (including simple English) upon arrival at Singapore by in-house staff
General Singapore family household simulation at training centres located in local offices
Baby and elderly care training conducted
Video presentations to convey general expectations of Singapore employers
Oriented on critical safety measures vital to carrying out duties

Last updated on 13-06-2018.
Total hits: 26.