Other Information
| | |
| --- | --- |
| Able to handle pork? | |
| Able to eat pork? | |
Employment Record
| From | To | Country | Main Duties | Remark |
| --- | --- | --- | --- | --- |
| 2018 | 2021 | Singapore | Family of 5 ppls: Sir, Mdm, grandma and 2 children (9YO boy & 7YO girl) Take care children, cooking and general housework. FULL CONTRACT, did not continue as employer do not required helper anymore. | |
| 2021 | 2021 | Singapore | Household of 1 ppl: Grandma Take care grandma, cooking and general housework. TRANSFER as Grandma can only speak Teochew. | |
| 2021 | 2021 | Singapore | Household of 3 ppls: Sir, mdm and 1.5YO girl. Take care girl, cooking and general housework. TRANSFER as employer sold their house and stay in parent house (Existing helper). | |
| 2021 | 2021 | Singapore | Household of 3 ppls: Sir, Mdm, 12 YO boy. (Burmese family) General housework and cooking. TRANSFER as employer required her to work out of her required jobscope. | |
Maid Skills
| Areas of Work | Willingness | Experience | Evaluation |
| --- | --- | --- | --- |
| Care of infants/children | | 3 Year(s) | |
| Care of elderly | | 4 Year(s) | |
| Care of disabled | | 4 Year(s) | |
| General housework | | 4 Year(s) | |
| Cooking | | 4 Year(s) | |
| Language Skill: ENGLISH / MANDARIN | | 4 Year(s) | |
| Other Skill: CYCLING | | | |
Maid Introduction
Interview can be arranged for both VC or face to face.
(License No.: 16C8002)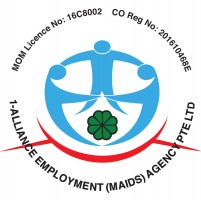 ---
Established in 2016,
1-Alliance Employment Agency is a all rounded solution provider for Singapore's households. We are one of the trustworthy employment agency in Singapore. We provide a wide range of Foreign Domestic Helper from the ASEAN countries.
We provide sincere, reliable and personal services to address all the needs and are ready to render assistance and advice when needed.
The services provided by us:
1. Placement of New FDW, Ex-Singapore FDW and Transfer FDW
2. Work Permit application and cancellation.
3. Renewal of Work Permit
4. FDW Repatriation Services
5. Home Leave Processing
6. Lodging for maids
7. Direct Hire Documentations
8. Passport renewal
9. Home Services and Excellent after sales services

Last updated on 22-09-2021.
Total hits: 192.