Other Information
| | |
| --- | --- |
| Able to handle pork? | |
| Able to eat pork? | |
Employment Record
| From | To | Country | Main Duties | Remark |
| --- | --- | --- | --- | --- |
| 2020 | 2021 | Singapore | Take care 2 young children (age 7 & 5) like send & fetch them from school. Take care small sized pet dog. Do general household work and cooking | 1 year. Not enough rest |
| 2019 | 2019 | Singapore | Take care grandma (age 70. Has Stroke) in all daily need including wheelchair transfer, accompany her outside. Do general household work and cooking | 1 month. Grandma stay in apartment (without lift type) and helper need to carry her up and down from |
| 2018 | 2019 | Singapore | Take care grandma (age 67. Has Cancer. On wheelchair) in all daily needs. Do general household work and cooking | about 2 years. Elderly passed away |
| 2017 | 2018 | Singapore | Take care grandma (age 94. On wheelchair) in all daily needs. Do general household work and cooking | 3 months. Elderly passed away |
Maid Skills
| Areas of Work | Willingness | Experience | Evaluation |
| --- | --- | --- | --- |
| Care of infants/children | | 2.5 Year(s) | |
| Care of elderly | | 2.5 Year(s) | |
| Care of disabled | | 2.5 Year(s) | |
| General housework | | 4.5 Year(s) | |
| Cooking | | 4.5 Year(s) | |
Maid Introduction


[From to - 1.

She is able to cook Indonesian and Chinese food. She can speak Fair English and understand Basic Mandarin.

She prefer to work in non Landed House and work as only helper for new employer.

Currently she is looking for new employer and can come in Singapore upon confirmation.
---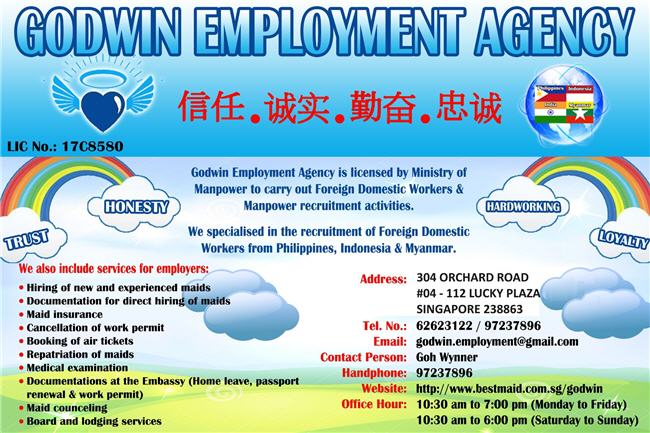 Last updated on 26-06-2022.
Total hits: 195.