Other Information
| | |
| --- | --- |
| Able to handle pork? | |
| Able to eat pork? | |
Employment Record
| From | To | Country | Main Duties | Remark |
| --- | --- | --- | --- | --- |
| 2021 | 2022 | Singapore | Work with another helper to serve 4 adults + 4 children (age 7, 7, 5 & 5) in Condo (6 bedrooms). Assist to take care young children. Do all general household work and cooking. | 1 year |
| 2020 | 2021 | Singapore | Serve 2 adults + 1 grownup child (age 20) in Condo. Do general household work and cooking. | 8 months |
| 2019 | 2020 | Singapore | Serve 2 adults + 1 child in Condo(4 bedrooms) Take care child (age 16) like prepare meal. Do all general household work and cooking. | 1 year. Helper went back to Indonesia to take care parent as brother goes hospital |
| 2013 | 2019 | Singapore | Serve 1 elderly in HDB. Take care grandma (age 95 wheelchair bound) like wheel transfer, shower aid, change diaper, feed food and medicine. Do general household work and cooking | 5.5 years. Grandma passed away. |
Maid Skills
| Areas of Work | Willingness | Experience | Evaluation |
| --- | --- | --- | --- |
| Care of infants/children | | 5 Year(s) | |
| Care of elderly | | 8.5 Year(s) | |
| Care of disabled | | 8.5 Year(s) | |
| General housework | | 11.5 Year(s) | |
| Cooking | | 11.5 Year(s) | |
Maid Introduction


[From 2009 to 2012 - 3 years]
Employer: Nursing Home (In Taiwan)
Job scope:
- Take care a group or 8 elderly patient. Special care on 4 elderly patient (Has stroke condition) like tube feeding, shower aid, exercising aid, change diaper & others

* Contract finished


[From 2005 to 2008 - 3 years]
Employer 1: Arabian (In Saudi)
- Work with 2 helper to serve 2 adults & 2 children in the House
Job scope:
- Take care children (age 2 & 5)
- Do all general household works including house cleaning, washing clothes, ironing clothes and cooking.

She is Independent in Cooking and can cook Indonesian, Chinese and Western food and can follow recipe to learn to cook new dishes. She can speak Fairly Good English and FAIRLY GOOD MANDARIN.

She can work in Landed house and can work with another helper for new employer.

Currently she is looking for new employer and can come to Singapore upon confirmation.
---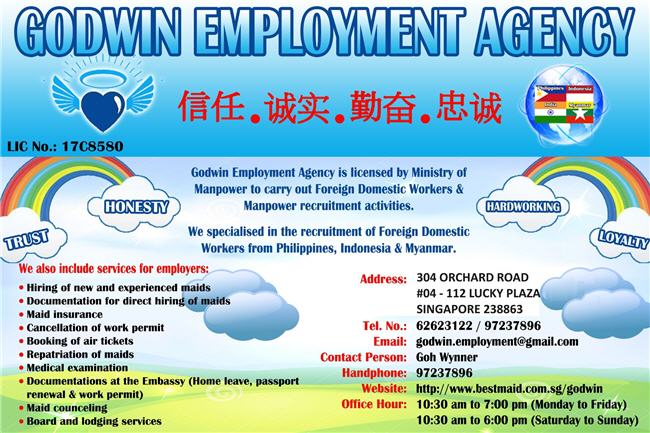 Last updated on 03-07-2022.
Total hits: 65.