Other Information
| | |
| --- | --- |
| Able to handle pork? | |
| Able to eat pork? | |
Employment Record
| From | To | Country | Main Duties | Remark |
| --- | --- | --- | --- | --- |
| 2007 | 2009 | Malaysia | 4 Members staying in Landed(4BR/2Toilet), Her duties is household chores, marketing, simple cooking & taking care of Ahmah | Finish contract |
| 2009 | 2010 | Malaysia | 8 Members staying in 2 story landed (6 BR/4 Toilet), Her duties is household chores, simple cooking & taking care of 2 yo | Cant cope not enough rest |
| 2019 | 2021 | Singapore | 2 Members staying in HDB, Her duties is household chores, taking care of ah gong (Stroke patient) & Cooking | Ah Gong passed away (no need helper) |
| 2021 | 2022 | Singapore | 1 member staying in 3 room flat, her duties is to do general household chores, cooking, cleaning, washing and take care of 1 elderly age 96 years old female | Communication issue |
Branch Office 1:
545 Orchard Road #05-34,
Far East Shopping Centre ,
Singapore 238882
Office Hour:
Monday to Friday :10.30am - 7.00pm
Saturday-Sunday :10.30am - 5.00pm
Closed on Public holiday
Tel:
91470227
Contact Person:
Cindy Ardiani R1111154
---
Sweet Home Employment Agency boasts over 15 years of experience in the industry and is founded with the aim of providing the best foreign domestic helpers to families
Two experienced and driven women, Cindy Ardiani and Crystal Chan, established Sweet Home Employment Agency in 2015 with the hopes of wanting to be able to provide the best foreign domestic helpers to families in need of an extra helping hand. Apart from hiring new and skilled domestic helpers, Sweet Home Employment Agency also provides board and lodging services along with repatriation of helpers as well. On top of that, they offer counseling services, open to all their helpers. Sweet Home is an employment agency like no other, where the needs of both the employers and domestic helpers matter equally.
With over 15 years of experience in this industry, Cindy and Crystal had a great headstart as they were proficiently skilled for this trade. While their years of experience enhanced their tradeskills, they kept an extraordinary vision close to heart when establishing their business.
Cindy and Crystal shared a vision to strive to achieve warmth and harmony in every home, thus the name of the company, Sweet Home, originated from that initiative. The pursuit of turning that initiative into a successful business required a lot of hard work. With a desk full of tasks to complete daily, from attending to calls to documenting the bio-data of their helpers; is just a fraction of their daily duties. They also hold the responsibility of solving any problems faced by their helpers, for instance, familiarising them with the operations of the electrical appliances at home such as washing machines and microwave ovens. As the helpers come from different countries altogether, getting acquainted with the lifestyle and technology here could pose as a problem for them.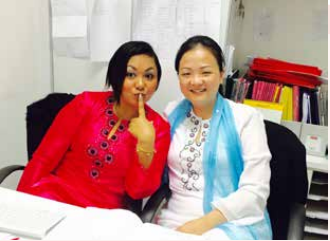 Despite the heavy workload, Cindy and Crystal find it worthwhile. As women themselves, they aspire to reach out to other women from lesser-developed countries to make an honest living out of them. That was the reason behind choosing to start a business in this industry. By being able to become the source of the income for these women who come to Singapore in search of a decent livelihood, helps to support and turn them into financially independent women.
Starting a business with a purposeful vision in mind enabled the business duo to elevate their agency greatly. At the same time, they did face challenges with the regulations enforced upon the employment agencies in Singapore. They had to juggle between complying with the regulations as well as looking out for their helper's needs. Especially when it came to their helpers feeling homesick. They would face culture shock or be stressed about not meeting the expectations of their employers, all these causes them to miss their hometown and want to make a trip back. However, with the regulations in place, they may not necessarily be able to make a home-visit as yet. This sometimes creates an ethical dilemma.
SWEET HOME EMPLOYMENT AGENCY'S UNBIASED PRACTICE BASED ON HONESTY, HUMILITY AND WARMTH IS THEIR DISTINGUISHING FACTOR
Nevertheless Cindy and Crystal are able to pull their helpers through such situations. They believe that communication aids in fostering a stronger employer-employee relationship. Which is why the counseling sessions with their helpers fills them with positive encouragement, giving them a sense of reassurance that keeps them from harbouring any negative thoughts and feelings.
While offering counseling service to their helpers gives them an edge amongst the other agencies in the industry, they consider their unbiased practice as their distinguishing factor. Cindy and Crystal ensure that they are fair to their customers and helpers. If they do not have a suitable helper that an employer is in search for, they would not blindly assign any helper to them for the sake of gaining a profit. They are fair and honest to their clients and treat all their helpers equally. This practice stands them apart from their competitors.
Being able to stand apart within an industry is evidently an achievement on its own. When asked what their proudest achievements were, they credited it to the satisfaction they got when both their helpers and customers are happy with their services. They have established a friendship where their customers and helpers share a comfort level with them. These act as a great achievement that makes Sweet Home Employment Agency proud.
Today, Sweet Home Employment has achieved tremen dous business success. Possessing the right qualities and business sense has definitely contributed in the success of Sweet Home Employment Agency. Cindy and Crystal also shared that they believe honesty, humility and warmth are key virtues that can help to heighten the success of an aspiring entrepreneur. With all that Cindy and Crystal have acquired for their company thus far, there is no stopping this duo in the time to come.

Last updated on 19-10-2022.
Total hits: 87.