Other Information
| | |
| --- | --- |
| Able to handle pork? | |
| Able to eat pork? | |
Employment Record
| From | To | Country | Main Duties | Remark |
| --- | --- | --- | --- | --- |
| 2022 | 2019 | Singapore | Take care elderly grandpa (age 80. Leg amputated. wheelchair) like shower aid, toilet aid prepare meals. Do general household work and cooking | 3 years. Contract with extension finished |
| 2015 | 2016 | Singapore | Take care young children (age 12 & 8). Do general household work and cooking | 4 months. Not enough food and rest. |
| 2015 | 2015 | Singapore | Take care grandpa (age 70. weak in walking) like wheelchair him outside, prepare meals. Do general household work and cooking | 7 months. Elderly passed away |
| 2014 | 2015 | Singapore | Take care grandma (age 91. Bedridden) like feeding blended food, shower aid, change diaper. Do general household work and cooking | 6 month. Grandma passed away |
Maid Skills
| Areas of Work | Willingness | Experience | Evaluation |
| --- | --- | --- | --- |
| Care of infants/children | | | |
| Care of elderly | | 6 Year(s) | |
| Care of disabled | | | |
| General housework | | 6 Year(s) | |
| Cooking | | 6 Year(s) | |
Maid Introduction



[From to - 2 years]
Employer: Local Chinese (In Singapore)
Job scope:
- Take care grandma (age . Mobile) like prepare meals.
- Do all general household works including house cleaning, washing clothes, ironing clothes, car washing, marketing and cooking.

* Contract finished.

She is able to cook Myanmar and Simple Chinese food and is willing to learn to cook new dishes.

Currently she is looking for new employer and can come in Singapore upon confirmation.
---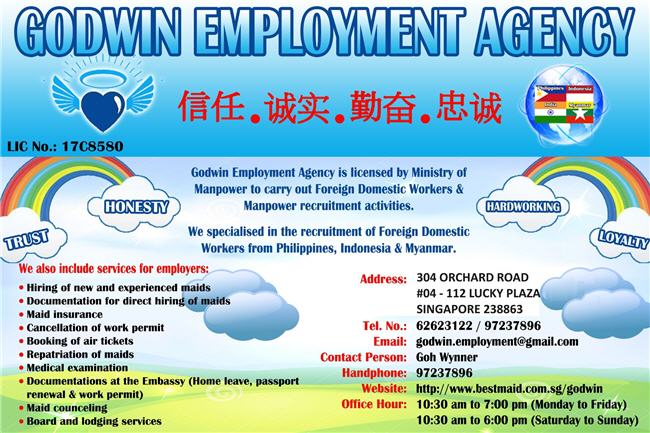 Last updated on 14-12-2022.
Total hits: 56.