"Good Help, Great Asset"
A good employee is an asset to his or her employer.This is the belief and the Mission Statement for ASSET AGENCY Pte Ltd ("ASSET"). ASSET was established in the year of 2010, and has been expanding its footmark in the Foreign Domestic Workers placement field for the past 10 years.
We are an employment agency which specialized in placement of Foreign Domestic Workers (FDWs), especially of Indonesian nationality. Our sincerity, integrity and excellent customer service has enabled us to gain and build long-term relationships with our clients. ASSET has expanded to Philippines, Myanmar and Cambodian FDWs placement beside Indonesia FDWs.
In 2009, ASSET has further diversified and expanded into executive search industry and as part of the Agency's initiative to bring greater career opportunities for both Singapore and Malaysia fresh graduates, ASSET opened her associate company in Malaysia in year 2013. This enabled us to expand our services to assist our clients to seek accountants and IT professionals like system designer and developers. Not only does this expansion create a bigger market opening, it also gives ASSET a larger talent pool to draw upon. It is a shared vision of the Asset Recruitment Agency to become a preferred executive search employment agency in both Singapore & oversea. Thus, Asset plans to expand their talent database for the local market to include professionals and executives for other industries.


Our Services
*FDW denotes Foreign Domestic Workers
1) Deployment of New FDW
100% legal deployment of New FDW from Indonesia, Philipines and Myanmar.
2) Deployment of Transfer FDW
Fit to work and non-problematic ready available FDW in Singapore.
3) Direct hire of FDW
Have a FDW candidate of interest located oversea? We offer services for the necessary applications.
4) Settling-In-Program(SIP)
Asset ensures all newly arrived FDW attendance for this compulsory program within first 3 days of arrival in Singapore.
5) Passport renewal and Home Leave Documentations
Asset is an accredited agency by the Indonesian Embassy of Singapore, and this liaison with the embassy ease the documentations procedure access. Filipino and Myanmar of such service is also available.
6) Medical Check Up
FDWs in Singapore should undergo a 6th monthly medical check up in compliance of MOM rules. Medical check up can be arranged with us at your convenience.
7) Application / Renewal / Cancellation of Work Permits
Asset provides a comprehensive work permits related documentation solutions. Such documentations can be done via WP online, or by Manual Application at the MOM office.
8) Booking of return flight tickets
Our partner ticketing agency offers a competitive pricing. Asset also offers hired transportation of FDW to airport at your convenience.
9) Waiver of Security Bond, and Comprehensive Insurance Coverage
Asset work closely with our corporate partner to deliver a reliable insurance solution, leaving our customers in peace of mind.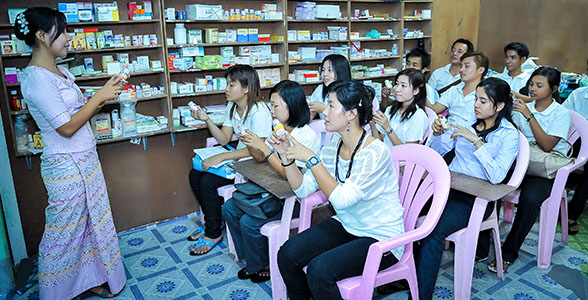 Foreign Domestic Workers Training
"Hands-on training is the core of competent domestic workers."
Being having our own training centers in Indonesia, Philippine and Myanmar, we are able to train foreign domestic workers following strict courses, guided by experienced trainers. Trainings are updated from time to time to meet the modern needs.
Training Includes :
Elderly Care
Hands-on training on usage of wheelchair and walking sticks in assisting elderly movements, hygiene care for elderly and also mentality preparation for related job placement.
Basic Singaporean food cooking classes
Basic Singaporean cooking and operations of kitchen equipments, such as electrical kettle, stove, oven etc.
Hands-on housework using modern equipments
Usage of vacuum cleaner, washing machines, and related knowledges in maintaining household furnitures and appliances.
English classes
Classes are conducted with usage of learning-aids such as individual earphones and microphone to interact directly with trainers.
Infant and toddler care
Infant care such as changing diapers with the help of standard infant model used, values such as compassion and empathy are embedded along the course.