Other Information
| | |
| --- | --- |
| Able to handle pork? | |
| Able to eat pork? | |
Employment Record
| From | To | Country | Main Duties | Remark |
| --- | --- | --- | --- | --- |
| 2009 | 2017 | Singapore | Child care ( 5,3 & 11 months ) General housework ( Condo ), marketing and cooking. | 8 years with the family. |
| 2017 | | Singapore | childcare ( 3 years old and 6mos old) cooking | 08/07/2017 - present |
Maid Skills
| Areas of Work | Willingness | Experience | Evaluation |
| --- | --- | --- | --- |
| Care of infants/children | | 8 Year(s) | |
| Care of elderly | | | |
| Care of disabled | | | |
| General housework | | 8 Year(s) | |
| Cooking | | 8 Year(s) | |
Maid Introduction
is Filipino transfer maid.


Employer 1 18/02/2009 - 08/07/2017
Australian family. She is working with this family for 8 years. Her duties is to look after 3 children ages 5, 3 & 11 months baby, general housework, Marketing and cooking.
She is really good with children. She also loves to cook specialty in Western food.

Employer 2 08/07/2017 - present
British family with 2 kids

She is available for employment end of August.
(License No.: 12C6270)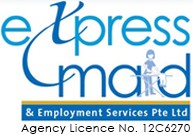 Address:
545 ORCHARD ROAD,
#03-16 FAR EAST SHOPPING CENTRE, Singapore 238882
Tel:
67345997
Fax:
6734 6040
Email:
sgmaids88@gmail.com
sgmaids01@gmail.com
sgmaids02@gmail.com

Contact Person:
Jupiter / Ellen / Percy
Handphone:
98340996 / 84887000 / 83336530
Website:
www.bestmaid.com.sg
Office Hour:
Opening Hour: Monday to Friday 10:00am to 6:00pm
Sunday: 10:00am to 4pm
Saturday and Public Holiday : Closed
---
Express Maid we are efficient, honest, and trustworthy. We take pride in what we do and it has been shown in the immense satisfaction of our previous clients. We believe that maintaining well & long relationships with our clients is essential. An exceptional reason to engage us as your service provider is that within 12 months if you are dissatisfied with your current helper for any reason, we will provide a maximum of 2 free replacements. Since 2011, we have been providing professional& quality services to meet the needs of many families. The following listed are the services we currently provide.
• Direct hiring from Philippines & Indonesia
• New & transfer maids application
• Full documentation of applications
• Renewal& cancellation of work permit
• Repatriation of maids
• Best prices of airfares
• Passport renewal
• Home leave processing
• Door-to-door home service
• Maid counselling
• Complimentary professional advice
• Affordable range of packages

Last updated on 30-06-2020.
Total hits: 78.