Other Information
| | |
| --- | --- |
| Able to handle pork? | |
| Able to eat pork? | |
Employment Record
| From | To | Country | Main Duties | Remark |
| --- | --- | --- | --- | --- |
| 2020 | 2022 | Qatar | Serve 2 adults + 6 children + 1 baby in the house. Take care baby (3 month old) & young children (age 19, 17, 16, 15, 13 & 9) like prepare meals, accompany them to school. Do all general household work and cooking | 2 years. Contract finished. |
| 2018 | 2019 | Singapore | Serve 2 adults + 1 child (age 2) + 1 baby (new born) in Condo, Take care new born baby and child by sending & fetching from school. Do all general household work and cooking. | 8 months. Employer bought a house in Malaysia and stay for good there |
| 2014 | 2016 | Other Countries | Serve 2 adults + 4 children (all grown up with own families) in Villa House (3 storey). Take care of her madam (has stage 4 breast cancer). Do all general household work and cooking | 2 years. Finished Contract |
Maid Skills
| Areas of Work | Willingness | Experience | Evaluation |
| --- | --- | --- | --- |
| Care of infants/children | | 3 Year(s) | |
| Care of elderly | | | |
| Care of disabled | | | |
| General housework | | 5 Year(s) | |
| Cooking | | 5 Year(s) | |
Maid Introduction
Maid Introduction:

Alicia A.

She is able to cook Philippines, Simple Arabian and Chinese food and can follow recipe to cook new dishes. She can speak Good English.

She can accept working in Landed House and can work with another helper for new employer.

Currently she is looking for new employer and can come in Singapore upon confirmation.
---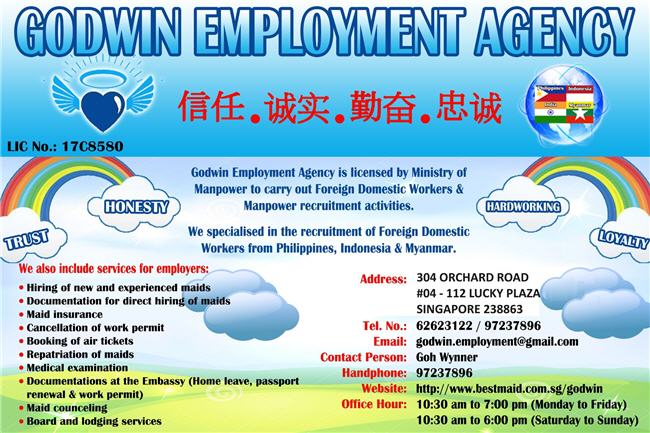 Last updated on 14-08-2022.
Total hits: 588.