Other Information
| | |
| --- | --- |
| Able to handle pork? | |
| Able to eat pork? | |
Employment Record
| From | To | Country | Main Duties | Remark |
| --- | --- | --- | --- | --- |
| 2010 | 2012 | Singapore | All & Take Care Of 4 Years Old Child. | RFL - Finishh Contract. |
| 2012 | 2013 | Singapore | All & Take Care of 3 Children, 3, 10 & 12 Years Old. | RFL - Employer Migrating to other country. |
| 2013 | 2016 | Singapore | All & Take Care of 2 Children, 4 & 6 Years Old. | RFL - Finish Contract. |
| 2016 | 2020 | Singapore | All & Take Care of 2 Children, 9 & 14 Years Old. | Still working in the household. |
Maid Skills
| Areas of Work | Willingness | Experience | Evaluation | Comments |
| --- | --- | --- | --- | --- |
| Care of infants/children | | 10 Year(s) | | |
| Care of elderly | | | | |
| Care of disabled | | | | |
| General housework | | 10 Year(s) | | |
| Cooking | | 10 Year(s) | | Western, Chinese & Follow Recipe |
| Language Skill: English | | 10 Year(s) | | |
Maid Introduction

- Currently she is still working in the household and she will be available on 29 July 2020 because her employer is migrating to other country.
(License No.: 18C9537)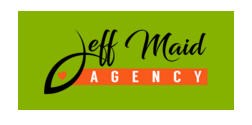 Address:
West Way Building,
27 West Coast Highway # 02 - 22, Singapore 117867
Tel:
9111 1040
Email:
admin@jeffmaidagency.com.sg

Contact Person:
Samson
Handphone:
9173-0048
Website:
jeffmaidagency.com.sg
Office Hour:
Monday to Saturday: 9AM to 7PM
---
Welcome to Jeff Maid Agency

Last updated on 04-07-2020.
Total hits: 103.