Other Information
| | |
| --- | --- |
| Able to handle pork? | |
| Able to eat pork? | |
Maid Skills
| Areas of Work | Willingness | Experience | Evaluation |
| --- | --- | --- | --- |
| Care of infants/children | | 30 Year(s) | |
| Care of elderly | | | |
| Care of disabled | | | |
| General housework | | 30 Year(s) | |
| Cooking | | 30 Year(s) | |
Maid Introduction


-: In Singapore she has completed her 5 years 7 months with a Chinese family living in a condo. Her employer has left for US.

-: Subsequently she went to Malaysia to work 2 years with a Chinese family living in a Condo. Her employer has moved to US.

-: She finished her years contract with a Chinese family living in a Condo. Her employer has given her a very good reference and stated that "she has been looking after my daughter since birth. She is proven to be a very dependable, reliable person and has been able to maintain the household. She is extremely good with children and knows how to manage and care for them without any supervision. She is very honest and trustworthy and has never taken anything without asking. She is able to maintain good hygiene standards and keep the house spick and span. Her cooking skills are acceptable and she is able to set a nice and presentable setting during meal times. She is also able to cook for party gatherings. She is also good with pets as I own a dog and chinchilla. "

: She worked with Chinese family for 7 months in bungalow. They went back to China. Employer's reference: She is very enthusiastic and always ready to take over new challenges and responsibilities. She undertakes to carry out attentively all duties of domestic nature for example laundry, cooking and baking (must try her Pizza), child/baby care, all purpose cleaning and housekeeping. She remained courteous and polite to all members of the household and behaved properly at all times.

- : She has worked 1 year 9 months with a Swedish family living in a landed property. Her other chores include cooking, marketing and general housekeeping. Employer has relocate to other country and gave her a good reference: It is with a very heavy heart that we now need to terminate her contract after less than 2 years since we are moving back to Europe. We will miss her tremendously. Remedios is hardworking and efficient and keeps the house in perfect condition. Very often when we wanted her to do something for us, it has already been done. She's very independent and always thinking one step ahead. We will really miss her cooking and baking. She can cook anything as long as she has a receipe. And she's never reluctant to trying new things. She is reliable, loyal and honest. We've trusted her fully and she has never made us disappointed. She has been fabulous with the kids, she's warm and loving but also good at following our family's rules and regulations. She has a big heart and a lovely smile and we can't recommend her enough. She's one of kind!

-: Currently she is working 7 years with a German family living in 3 storey town house. Her other duties include cooking, grocery shopping and general housekeeping. Her employer has given her a good reference "We are in the process of relocating to Germany. Reme to help us with the following: Household chores: cleaning and tidying up the house, taking care of our laundry; Assistance with food preparation; Assistance with child minding. Reme has always taken very good care of our children and they are very fond of her. She is a trusted person and our children consider her to be part of our family. Reme has always ensure that they were safe and well taken care of. Reme is a good-hearted person who is committed to do her work every day. We can't recall a day when Reme didn't do her work dutifully. We would like to thank Reme for her hard work over the past seven years and wish her all the best for her future. "

Available for transfer End May

For interview please call

SUPER EMPLOYMENT SPECIALIST.
---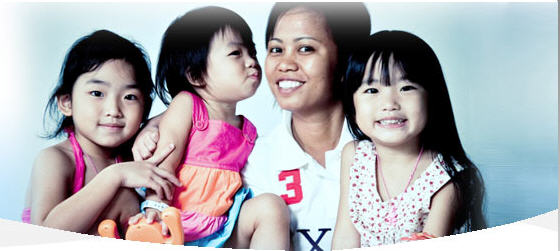 SUPER Employment Specialist Pte Ltd (Licence No. 16C7846) was established in 2002. Through the years, our emphasis on value added services has made us one of the largest recruiter of foreign domestic workers (FDW) in Singapore. Our strong clientele and a high level of successful placements are the best indication of our professionalism.
SUPER is among the few agencies that have overseas training centres in Indonesia and Philippines. Our training programmes are updated regularly to reflect the requirements of the Ministry of Manpower (MOM) and the basic household needs of our employers.
SUPER has one of the largest pools of experience helpers available for face to face interviews at any point of time. Our company is committed to provide a weekly update of new biodata for viewing and selection. As our customers can assess the helpers in person during interview, we are able to ensure a high successful employment retention rate.
SUPER specialized in placement of helpers from various countries that has been approved by the MOM, namely the Philippines, Indonesia, Myanmar, Thailand, India and Sri Lanka. This allows our customers to have a wide array of choices to select from.
At SUPER, our teams of experienced and motivated consultants are happy to assist you in the selection of suitable maids to fit your family requirements.
Our Services


Hiring of new and experienced maids.


Documentation for direct hiring of maids.


Maid insurance.


Cancellation of work permit.


Booking of air tickets.


Repatriation of maids.


Medical examination.


Documentations at the Embassy. (Home leave, renewal of passport and work permit)


Maid counseling.


Board and lodging services.


Why Choose SUPER?


We are licensed under the Ministry of Manpower (License No: 16C7846).


We are accredited with Association of Employment Agencies Singapore (Cert No. 111).


We are one of the largest recruiter of foreign domestic workers in Singapore.


We specialize in the sourcing and placement of experienced maids to both local and expatriate families.


We charge a reasonable agency fee with no hidden costs.


We have a team of experienced and committed staff to handle all your employment needs.


For counseling purposes, our sales team is able to speak the local dialects of the foreign maids.


We focused on providing value added services to all our clients.


Our office is centrally located along Orchard road with ample parking.



Last updated on 11-06-2022.
Total hits: 976.